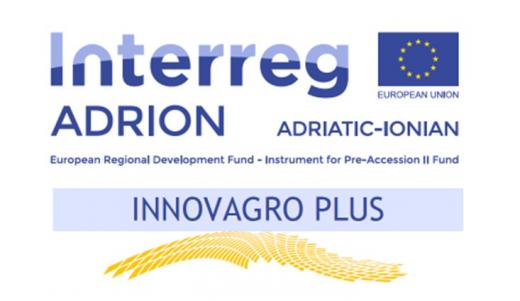 Development of an innovative network for the promotion of extroversion of agro-food companies in Adriatic - Ionian Area PLUS / INNOVAGRO PLUS

PROJECT TITLE: Development of an innovative network for the promotion of extroversion of agro-food companies in Adriatic - Ionian Area PLUS
ACRONYM: INNOVAGRO PLUS
MAIN SCOPE:
The main scope of INNOVAGRO PLUS project, as sequel of INNOVAGRO project, is the further promotion, exploitation and capitalization of the 2 main outcomes of INNOVAGRO project:
a) INNOVAGRO Transnational Cooperation Network, and
b) Virtual Transnational Business Innovation & Entrepreneurship Center (VIBIEC), at national/regional/transnational level maximizing their effectiveness.
SPECIFIC OBJECTIVES:
Specific objectives of INNOVAGRO PLUS project are to: a) update the already delivered project capitalization strategy andestablished INNOVAGRO network, taking into consideration the effects from the pandemic of COVID-19 and the consequenteconomic crisis, by elaborating a detailed action plan and organizing the Kick-off General Assembly of INNOVAGRO Network, b)enhance the already developed Virtual Transnational Business Innovation & Entrepreneurship Center (VIBIEC) by continuing tooffer e-support and information to agrifood SMEs, attracting new users, and enriching the content of the e-platform, c)increaseawareness among potential beneficiaries, stakeholders and interested institutions on the role of European TerritorialCooperation to increase cohesion by organising National Awareness & Promotion Events, d) promote the practical application ofthe main products/practices developed during INNOVAGRO project by organising relevant events and activities, and e) toprovide to future potential beneficiaries first-hand information on managing and implementing European projects by organisingspecific National Meetings.
MAIN TARGET GROUPS AND BENEFICIARIES:
The main target groups and beneficiaries of INNOVAGRO plus are: a) SMEs representative organisations in the agrifood &tourism sector, b) farmers associations, c) business support organizations, d) R&D Institutes, and e) Regional & Local Authorities.
Lead Partner: Chania Chamber of Commerce and Industry (GR)
Project Partners:Technical University of Crete, School of Environmental Engineering (GR)
Chamber of Commerce and Industry of Serbia (RS)
E-Institute (SI)
Italian Confederation of Agriculture (IT)
Network of the Insular Chambers of Commerce and Industry of the European Union (INSULEUR) (GR)
Province of Potenza (IT)
Region of Crete (GR)
Technical University of Crete (GR)
University of Basilicata (IT)
Project value: 174.000 €
Project duration: 01.2022-06.2022 (6 months)
The Project is supported by the INTERREG ADRION Programme funded under the European Regional Development Fund and IPA II fund.