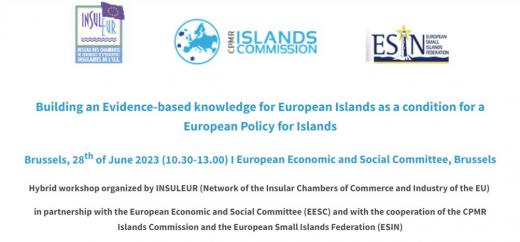 28 June 2023: Hybrid Workshop "Building an Evidence-based knowledge for European Islands as a condition for a European Policy for Islands"
In the context of the critical lack of statistical data at island level and the lack of estimation of "the costs of insularity" that prevent the proper formulation, implementation and monitoring of policies adapted to the specific characteristics and needs of islands, INSULEUR is organizing a hybrid workshop on 28 June in Brussels.
The aim of the workshop organized by INSULEUR in partnership with the EESC, with the cooperation and the participation of the CPMR Islands Commission and ESIN is to address thoroughly this issue and present its proposal for the creation of a specific structure (Observatory) on Insular Economies to support policymakers at different levels so to enable these territories to play a more active role in the EU both economically and socially.
All information available (Agenda, registration): HERE
Deadline for Registration > Monday, June 26th. Further to this date, the EESC will close registrations.