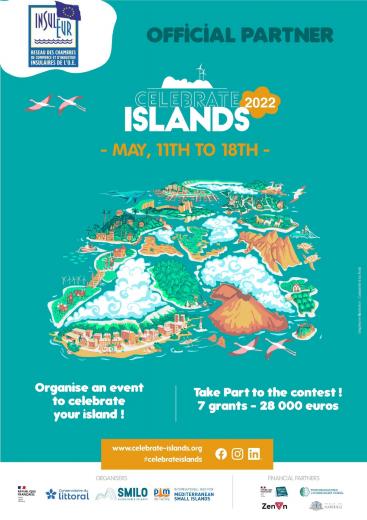 12/03/2022

9th edition of CELEBRATE ISLANDS
We are pleased to announce the launch of the 9th edition of CELEBRATE ISLANDS, held from May 11 to 18, 2022.

As every year, CELEBRATE ISLANDS puts small islands and their actors in the spotlight during this international event. As proud official partner of this event, INSULEUR is convinced that the world's small islands are precious sources of inspiration and bearers of conservation solutions that it is essential to promote and disseminate. Therefore, we suggest gathering our energies during a festive week to honor our islands.
There are two ways to participate in Celebrate Islands:
ORGANIZE AN EVENT ON YOUR ISLAND
For this new edition, we want to continue to highlight the way you take care of your island territories. Organize an event between the 11th and 18th of May, and register it in the CELEBRATE ISLANDS agenda (description, dates, and pictures) here . We will take care of promoting it through our social networks and those of our partners! You will also benefit, free of charge, from a CELEBRATE ISLANDS 2022 communication kit (to be downloaded here ) to promote your actions and your participation in this event. More information in the flyer downloadable here .
TAKE A CHANCE ON THE 2022 CONTEST « MY PROJECT IN 120 SECONDES »
This year, CELEBRATE ISLANDS is offering 28000 €* to give you the opportunity to implement a small preservation project on your island. *7 grants of 4 000€ to be won by 7 winners 3 themes in the spotlight Preservation of marine ecosystems Reduction of the impacts of economic activities Sustainable management of water resources More information on the contest application process on the dedicated platform here !
WE COUNT ON YOU TO CARRY THE ISLANDS' VOICE
You wish to get more information, Please contact: team@celebrate-islands.org
Together, let's take care of our islands!